Wear the Awareness Avenue 'I Am Enough' Ring to increase self-confidence and to be reminded that we are enough in this world for the people in our lives who truly matter.

...or give this ring as a gift to a loved one today to make them feel better, increase their confidence and remind them that they ARE enough.

Packaging Options:
Add a gift -and keepsake box for just $4.95. Perfect if you are gifting the ring to someone else. If no gift box is selected, the ring will be delivered in a beautiful silk bag with our brand logo on it, inside a protective envelope. The branded silk bag is also included when selecting the gift box option.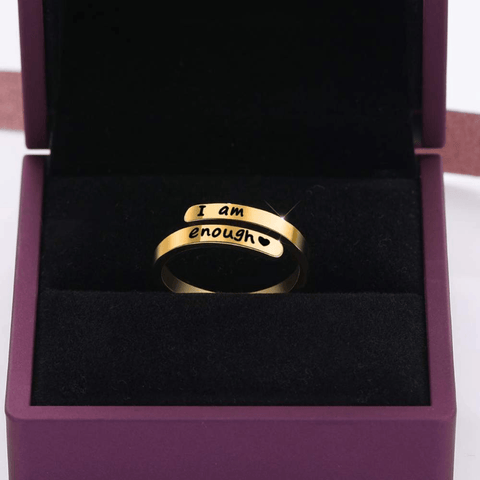 In this day and age, it has become a despair-inflicting tend to always want more and a lot of people seem to never be satisfied with their lives. We want people to remind themselves that it is the simple things that truly matter. With a roof over our heads, food, water and good people who love us; we will always truly be enough no matter what anyone else or society says.
This ring can mean a world of difference to friends and family. it can be given as a small gesture of goodwill to someone who needs it. Maybe as this is being read, someone comes to mind and since we're a brand that cares deeply about suicide prevention; in some cases these gestures even save lives.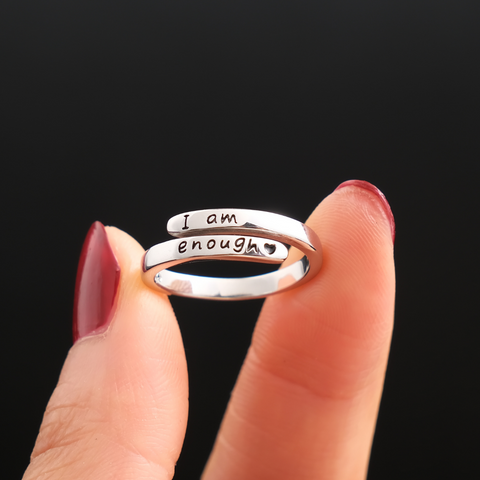 Have no fear of discolouring your skin or fading the ring's natural shine. All of our rings are original and made from
100% Certified 925 Sterling Silver
and as such you will never experience any discolouring and your ring will stay beautiful forever. Wash gently in lukewarm water to restore its shine anytime.
Limited Stocks Remaining, Shop Now