📖 【 FREE LASER ENGRAVING 】 - We offer free engraving service. Clicking the 'Customize now', enter some meaningful text, such as name, date, coordinates, we will engrave the info you provide on the 'front cover' and the back of the book, bringing you a personalized jewelry. (Please note the inside page of the book pendant can't be engraved)

📖 【 MEANINGFUL LOVE 】 - Using the book-shaped pendant record the love and story forever. You could engrave the motto on the book charm, make it as a encouragement to inspire yourself, engrave the memorial sentence on it as a memory, or engrave the lovers' prattle as a romantic token of love.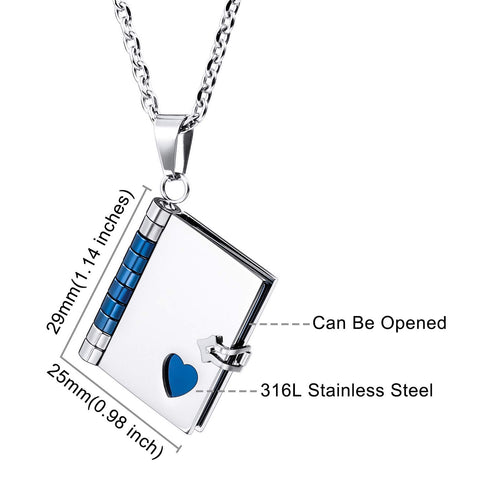 📖 【 UNIQUE DESIGN 】 - The pendant design is inspired by a real book in life, you actually can open the pendant like a real book, plus, you can draw some words or symbols on the pages inside the pendant, making it more special. The necklace has with 2-inch-long extention chain so that you can adjust the length of the necklace between 22''(560 mm) and 24''(610 mm).

📖 【 ALLERGY-SAFE MATERIAL 】 - This book necklace is made of 316L stainless steel, 100% nickel-free and allergy safety which is friendly for sensitive skin and allergy-prone skin. The pendant and chain surface is polished, the smooth edge will not scratch your skin.

📖 【 IDEAL GIFT CHOICE 】 - This pendant is a special gift to your girlfriend, wife, mother or beloved, The custom engraving information, is unique and memorable, and it comes with a free Jewelry Gift Pouch, makes it a perfect gift for an anniversary, Mother's Day, Valentine's Day to express your love.