If you're looking for a beautiful and sentimental way to express your love for your son, this bracelet is a perfect choice.
The sleek and masculine design will compliment any outfit and the 3 size options guarantee a perfect fit. The words "Love You Forever" are inscribed on the bracelet, making it a constant reminder of your love and support.

Whether he's heading off to college, getting married, or starting a family of his own, he is sure to cherish this heartfelt gift for years to come.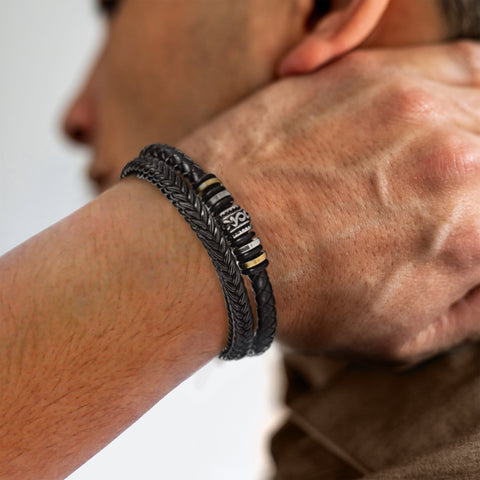 Why buy from us?:
Crafted In 100% High-Quality Steel Beads and Braided Rope
No more worries about your bracelet tarnishing or leaving ugly black or green marks! We only use the highest quality of materials and there's absolutely no chance you'll cause an allergy by wearing it. It was made to last a lifetime.
3 Size Options to Ensure a Perfect Fit
No matter where your son is along his journey of life we have a size for him to make the experience perfect. Above you can select just the right size which is suited for different ages! Don't worry, the bracelet can expand a bit in smaller sizes to keep it fitting perfectly later in life. We guarantee a perfect fit!
An Unforgettable Gift Experience 
Every order comes with a free message card to personalize the gift experience. You can also upgrade your box if you want something even more luxurious!